Integrated supply chain provides transportation solution
Your product is ready and now you must get it 
to its destination. Incorporating transloading in your supply chain can save you money, improve transportation reliability, and reduce energy usage.
Transloading is the act of moving goods from one mode of transportation to another. Manufacturers producing heavy, high volume or material categorized as hazardous may have difficulty finding an effective shipping method via road transportation alone. Transloading provides flexibility, cost-effectiveness, and safety.
Supply chain managers who incorporate transloading can realize short- and long-term benefits through leveraging the strengths of each mode of transportation. In this post, we are focusing on rail-to-truck and truck-to-rail hauling.
Flexibility
Transportation accounts for 66% of total logistics costs for companies, according to the Council of Supply Chain Management Professionals. Completing product transfers with the reliability and reach of rail and flexibility and availability of truck can be the perfect combination.
Nearly 13 million tons of manufactured product was shipped via rail and truck throughout North America in 2018, according to the Bureau of Transportation, and the amount of product being transferred across the nation increases every day. The Federal Highway Administration estimates total U.S. freight shipments will rise to 28.5 billion tons in 2040, and the Department of Transportation projects that demand for rail freight transportation, measured in tonnage, will increase 88 percent during that time.
Cost
The U.S. freight rail network covers more than 140,000 miles and moves more material than any rail system in the world, according to the Federal Railroad Administration. The biggest benefit of utilizing rail is cost. One rail car can hold up to four truckloads of material. Combining the capacity factor with issues related to driver shortages for long-haul routes, variances in truck fuel cost, and weather and traffic tie-ups, means distributors utilizing rail can expect up to a 25% savings, according to logistics data.
Environmental Impact
The transportation industry accounts for one-third of all carbon and other harmful emissions in the U.S., according to the Environmental Protection Agency. The freight sector accounts for over 25% of all fuel consumed and air emissions from transportation.
One ton of freight shipped by train produces two-thirds less greenhouse gas emissions than the same volume shipped by truck, according to the U.S. Department of Transportation's SmartWay Transport Partnership. Railcars can haul loads about 470 miles on a single gallon of fuel, about three times farther than trucks.
Nelson Packaging is a contract manufacturer offering 
rail-to-truck and truck-to-rail transloading from its facility in northwest Ohio.

With direct highway and rail access to 70% of U.S. manufacturers, Nelson's transloading service is an ideal shipping solution.
The transloading advantage
Combining rail and over-the-road trucking provides shippers with an ideal combination for lowering costs and increasing flexibility. At Nelson, three rail spurs can store a total of 21 rail cars within a fenced and secure area. A making system along the rail, onsite engineers and a construction crew able to design flexible systems to meet clients' needs are some of Nelson's diverse capabilities.
Nelson's dedicated spurs allow for multi-commodity transload services for an array of dry and liquid bulk products. Types of materials handled by Nelson include hazardous and non-hazardous, petroleum, food-grade, and chemicals. One spur enters a climate-controlled warehouse, where rail cars can be heated to enable effective transfer of the product.
With 200,000 square feet of warehousing space, five on-site tank farms, bulk blending capabilities and two laboratories to test and monitor product, Nelson Packaging has the capacity to serve small and large customers.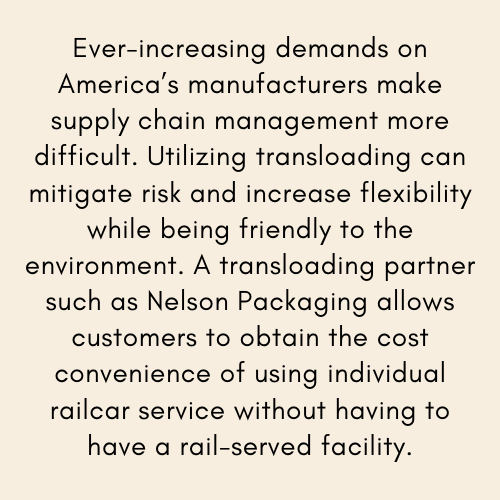 Rail Service
The Nelson spurs are served by CFE (Chicago, Fort Wayne and Eastern) Railroad and have interchanges with 6 Class I rail lines, including CSX, Norfolk Southern, BNSF, Union Pacific, Canadian Pacific, and Canadian Northern. The Lima switchyard is one mile from Nelson's warehouse and rail cars at the facility can be moved by Nelson's own switch engine, saving customers cost and hassle.
Safety
Rail has an integral role in safely and efficiently transporting goods across our nation. Products such as agriculture fertilizers, resins for manufacturers, and other chemical products to intermediaries and end-users are shipped daily. The efficient and reliable mode of transportation ensures that chemical producers and consumers maintain competitiveness. In 2017, U.S. Class I railroads moved 2.1 million carloads of chemicals, according to the Association of American Railroads.
Moving hazardous material by rail is the safest and preferred mode of land transportation. More than 99% of all hazardous materials moved by rail reach their destination without incident, according to the AAR.
Nelson has experience transloading caustic materials and has a working relationship with the Bath Township Fire Department for emergency response. The 24/7 facility has several employees with training in Hazardous Waste Operations and Emergency Response to ensure safe handling of products entering and leaving the facility.
Ever-increasing demands on America's manufacturers make supply chain management more difficult. Utilizing transloading can mitigate risk and increase flexibility while being friendly to the environment. 
A transloading partner such as 
Nelson Packaging provides railcar convenience without its client having a rail-served facility.


About Us: Nelson Packaging Company is a full-service contract manufacturer with 40 years of experience. Our capabilities include mixing, blending, filling, labeling and capping goods, and transloading shipments including hazardous materials, petroleum, chemicals, and food-grade products. Our award-winning facility in northwest Ohio includes a 200,000 square foot rail-served warehouse, tank farm, onsite microbiological laboratory, and various packaging and storage capabilities.